Ziton Z620-581-3P 58oC Heat Detector, Polar White (Replaced by DC-9101E)
Brand:
Ziton
ADI #:Z620-581-3P
Model #: Z620-581-3P
Name: Ziton Z620-581-3P 58oC Heat Detector, Polar White (Replaced by DC-9101E)
Approved to EN54 Parts 5 and CPD Certified
Low profile conventional design
Head out continuity support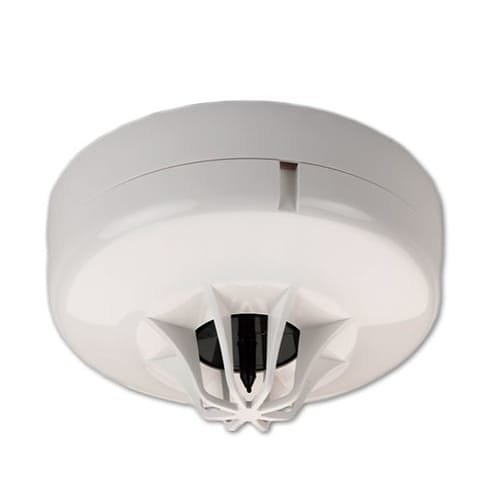 Product Overview
General Information
At a glance
General
The Z620-581-3P is a Polar White conventional thermal fire detector. It activates into alarm at a fixed temperature of 58°C.
Advanced thermistor design
Based on advanced thermistor technology, the Z620 series heat detectors provides a reliable response to fires in areas where environmental conditions prohibit the use of smoke detection.

The Z620-581-3P is a fixed temperature model, operating at 58ºC. It is intended for applications where fluctuations of ambient temperature may be expected, e.g. over machinery in laundries or factory locations where industrial processes may cause sharp temperature increases.
Approvals and Use
The Z620-581-3P meets the requirements of EN54 Part 5 with sensitivity to grade 2.

Low profile moulding and options of either surface or recessed bases make the units ideal for both modern commercial and industrial interiors featuring solid or suspended ceilings. A high intensity, red LED indicator on the detector moulding provides clear indication when the unit is in alarm.
Twist and lock base
For ease of removal, Z620 series detectors plug into a range of base units. In order to prevent unauthorised removal, a site selectable option is provided to lock the detector into its base. Once applied the unit can only be removed by means of a special tool.

All Z620 detectors feature head out monitoring support. Should a detector be removed from its base, in addition to giving a fault signal, all devices down line of the removed unit continue to function normally when the detectors are used with a Z6-BS5-P diode base.
Main Features
Approved to EN54 Parts 5 and CPD Certified
Low profile conventional design
Head out continuity support
Range of surface bases
Plug in base with automatic locking
Category : Branddetekteringsenheter, Värmedetektorer, Brand, Produkter
Specifications
Allmän information
Produktnamn
Conventional Z620-581-3P Fixed Temperature Heat Detector
Produkttyp
Fixed Temperature Heat Detector
Teknisk information
Maximum Relative Humidity
Minimum Relative Humidity
Fysiska egenskaper
Strömbeskrivning
Övrigt
Kompatibilitet
All ZC Conventional Systems