Elmdene VR2480-P 24V AC 8A, 230V AC Input, Vision PSU, IP68 Enclosure
Brand:
Elmdene by Potter
ADI #:VR2480-P
Model #: VR2480-P
Name: Elmdene VR2480-P 24V AC 8A, 230V AC Input, Vision PSU, IP68 Enclosure
24V ac output
Low profile metal boxed (2A, 4A & 6A version)
IP66/68 version available - external applications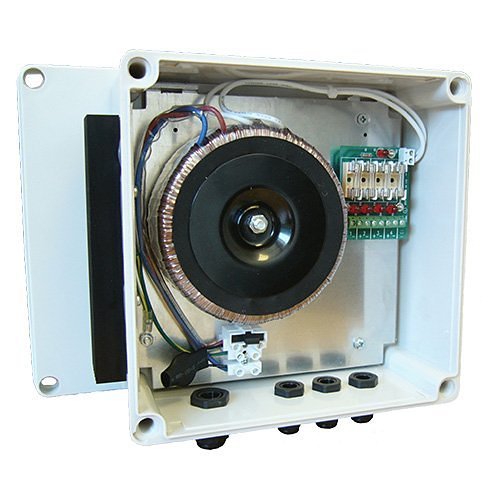 Product Overview
General Information
Elmdene's popular 24V ac CCTV range of power supplies consists of both low-profile and IP66/68 variants. The units are available in various power ratings up to 16A, with options of individually fused output circuits. They have been specifically designed for CCTV applications providing enough power to control multiple PTZ cameras, heaters, IR illumination, etc.

Individual fused output versions can provide isolation of selected circuits when servicing or in the event one circuit fails, allowing the rest of the system to operate normally, maintaining system integrity.

Units feature 'fuse health' LED's which are illuminated to show that each powered circuit is functioning correctly. Each fused output circuit may have different value fuses to suit the individual loads eg cameras, heaters etc.

The 8A low profile versions are offered in a lockable enclosure (keyed alike) while the other versions possess a screw lid. Cable entry is achieved by utilising either cable gland knockouts or via the allocated rear cable entry points of the enclosures.

IP66/68 versions (-P models) are available for external use in a number of power variants (up to 8A).
Main Features
24V ac output
Low profile metal boxed (2A, 4A & 6A version)
IP66/68 version available - external applications
Single or multi-fused output options
Unique heatsink design on 8A IP rated model
Safety thermal cut-out
Individual fuse 'health' LED's
Personalised screen printing available
3 year warranty
Category : Produkter för strömförsörjning, Strömförsörjning, Produkter, Videoövervakning
Specifications
Allmän information
Produktnamn
Vision VR2480-P Power Supply
Tillverkare
Potter Electric Signal, LLC
Teknisk information
Fysiska egenskaper
Garanti
Strömbeskrivning
Övrigt