Apollo 58100-971MAR Discovery Marine manuell anropspunkt, isolerande
Brand:
Apollo Fire
ADI #:58100-971MAR
Model #: 58100-971MAR
Name: Apollo 58100-971MAR Discovery Series Marine Manual Call Point, Isolating
'Plug and Play' terminal connections for fast wiring
Continuity link for wiring test before commissioning
Reports an alarm in under 0.2 seconds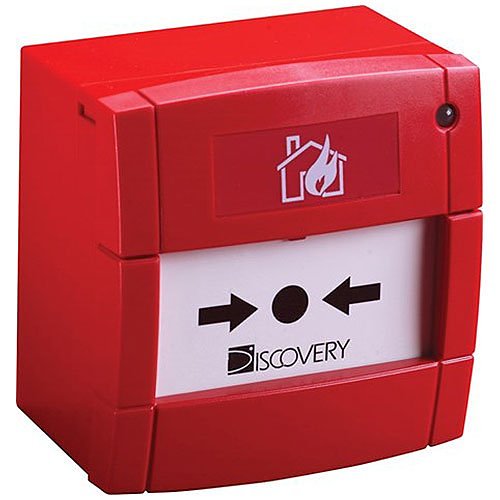 Product Overview
General Information
Operation
The Discovery Marine Manual Call Point (MCP) is based on the KAC conventional MCP range. It is electronically and mechanically compatible with previous Apollo call points based on KAC's World Series product. The address of each call point is set at the commissioning stage by means of a seven-segment DIL switch. If a MCP is activated, it interrupts the normal protocol to give a fast response. A single bi-coloured alarm LED is provided on the manual call point. This LED is controlled, independently of the call point, by the control panel and may be set to flash each time the call point is polled. The red LED is illuninated when the call point has been activated and sent into alarm. On the isolated versions an amber/yellow LED indicates a short-circuit on the loop wiring either side of the call point. Call points can be remotely tested from the panel by transmission of a single bit in the communications protocol. Call points respond by providing a value of 64 which corresponds to the alarm value. The panel should recognise this response as a test signal and should not raise a general alarm.
Application
For ease of installation Discovery Marine manual call points are supplied with clip-on terminal blocks and a connector which allows continuity testing before call points are commissioned.
Device Addressing
For details refer to datasheet PP2479.
Communication
Discovery
Maintenance & Service
Detectors should be maintained according to BS 5839-1 or other locally applicable code. Test equipment can be ordered from Apollo for testing smoke and heat detectors. Detectors should not be cleaned in the field except for careful removal of exterior dirt with a damp cloth. For cleaning and recalibration detectors should be returned to Apollo Fire Detectors or to the local distributor.
EMC Directive 2014/30/EU
The product complies with the essential requirements of the EMC Directive 2014/30/EU, provided that it is used as described.
Construction products regulation 305/2011
The product complies with the essential requirements of the Construction Products Regulation 305/2011.
Options
Discovery Marine manual call points are available with or without an isolator. Each version is available with a resettable element and a backbox for surface mounting as standard. If a glass option is required, spare glasses are available on request. To provide additional protection against accidental operation, a transparent hinged cover with a locking tag, part number 26729-152 is available, which can be fitted to the manual call point. Please note that the call point does not conform to EN54-11:2001 when this lid is fitted and secured with the locking tag.
Product Information
The Discovery Marine Manual Call Point has been approved for use in indoor marine applications. A seven-segment DIL switch enables addressing of each call point at commissioning stage. When operated, the manual call point interrupts the polling cycle for a fast response. Bi-coloured LEDs indicate isolate and normal conditions.
Main Features
'Plug and Play' terminal connections for fast wiring
Continuity link for wiring test before commissioning
Reports an alarm in under 0.2 seconds
Resettable element
Category : Brand, Larmknappar, Produkter
Specifications
Allmän information
Produktnamn
Discovery Marine Manual Call Point with Isolator
Teknisk information
Maximum Timer Duration (Second)
Fysiska egenskaper
Garanti
Miljöförhållanden
Maximum Operating Temperature (°F)
Minimum Operating Temperature (°F)
Produktinformation
Strömbeskrivning
Övrigt
Certifiering och standarder
Funktioner
Key Reset, LED Indicator, Plug & Play, Resettable