AXIS D101-A XF P3807 Explosion-Protected 8MP 180° Panoramic Multisensor Dome IP Camera, Zipstream, IP66, 3.2mm Fixed Lens,Red
Brand:
AXIS Communications
ADI #:01914-001
Model #: 01914-001
Name: AXIS D101-A XF P3807 Explosion-Protected 8MP 180° Panoramic Multisensor Dome IP Camera, Zipstream, IP66, 3.2mm Fixed Lens,Red
For remote surveillance needs, this network camera is best suited
Features RGB CMOS sensor
Up to 4320 x 1920 video resolution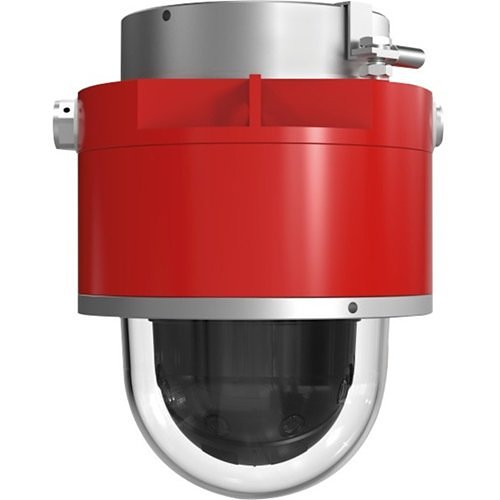 Product Overview
General Information
With four sensors built into a single camera, and seamless stitching of all four images, this lightweight camera delivers 180° panoramic overviews with excellent images and no blind spots. It's ideal for surveillance in production areas where it allows the operator to monitor one, single smooth and cohesive video stream.
Tough in hazardous areas
D101-A XF P3807 is certified to international standards to ensure safe operation in explosion prone applications. It comes enclosed in an aluminum red housing with IP66 rating. By using red, it helps the camera stands out more, especially useful in darker environments. This camera is perfect when you need to see the whole picture. It offers 180° panoramic coverage with complete 90° vertical coverage so you don't have to worry about blind spots and can be sure of capturing all the details and everything that's happening around you.
See the whole picture
This 8-megapixel multisensor camera offers seamless 180° panoramic coverage and captures high quality forensic images up to 30 fps. It acts as a single camera in your video management software (VMS) so you can combine four images into one and apply analytics across the entire image helping save time on installation and requiring only one single license. What's more, it features Forensic WDR and Axis Lightfinder for clear, sharp images even in challenging light.
Flexible installation
This lightweight camera can be powered by PoE with just one Ethernet cable for power and network access. And because the power source is located far from the camera, there's less likelihood of a power failure. This cost-effective camera is essentially a four-camera-in-one-unit so there's only one camera to install and manage in the video management software (VMS) where you can easily install whatever analytics you need and setup events and alarms. Plus, it offers Axis Zipstream technology for lower bandwidth and storage requirements and thanks to Axis open interfaces, it's easy to integrate with existing surveillance system.
Privacy masking
In some situations there are defined areas of the camera view where you have no need or right to monitor, such as a neighboring property. In these situations, static privacy masking is ideal for use indoors and outdoors. D101-A XF P3807 supports not only simple opaque blocks, but also pixelation of the masked area and polygonal shapes for more flexible coverage. The masking permanently blocks a selected area from view, guaranteeing privacy where required.
Main Features
For remote surveillance needs, this network camera is best suited
Features RGB CMOS sensor
Up to 4320 x 1920 video resolution
Seamless 180° panoramic overviews
8 MP, 180° multisensor camera
Cost-efficient installation with PoE
Forensic WDR and Lightfinder
Category : Videoövervakning, Produkter, IP-kameror, Panoramakameror
Specifications
Allmän information
Produktnamn
D101-A XF P3807 Explosion-Protected Network Camera
Teknisk information
Maximum Focal Length (mm)
Anslutningar
Bildegenskaper
Effective Camera Resolution (Pixel)
Fysiska egenskaper
Kamera
Lagring
Lins
Nätverk och kommunikation
Produktinformation
Monteringstyp
Corner Mount, Pole Mount, Wall Mount
Övrigt