Ziton A50E-2 Addressable Line Relay Module
Brand:
Ziton
ADI #:99102
Model #: 99102
Name: Ziton A50E-2 Addressable Line Relay Module
Addressable interface unit
Complies with EN54 Part18
Low profile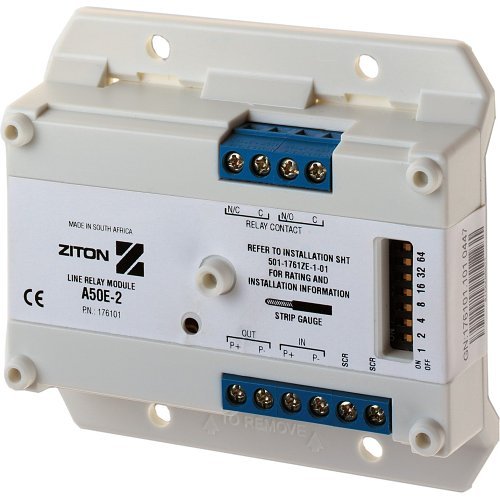 Product Overview
General Information
The A50E-2 is an addressable relay providing single pole, volt free, change-over contacts. The unit is intended for installation within the equipment to be switched, thereby offering savings in installation costs when compared to long, auxiliary circuit, wiring runs out from the control panel. Approved to EN54-18, the relay may be located anywhere on the two core ZP loop and is designed for power up or shut down of building services, for example air conditioning plant, in fire conditions.

The unit is ideal for the control of associated system equipment such as door release circuits or the emergency shutdown of high risk services, for instance gas or oil supply valves in boiler rooms.
Installation and Mounting Options
The relay can be programmed to be activated by any single device, groups of devices or all system devices. All types of system input signals can be arranged to operate the A50E-2 which can include control panel indicators, zonal outputs, call points or detectors.

Housed in a low profile, double width molding the interface is designed to clip directly onto a standard DIN rail fixing or be installed in a SMB-DIN1 box (one unit capacity), or a SMB-DIN2 box (two unit capacity).

Installed as part of an analogue addressable system, up to 127 line devices (detectors, call points or interface units) can be connected to each of the control panel loops. All loop devices incorporate switch settings enabling them to be assigned a unique address which is polled by the panel every two seconds.
LED indication
A red LED indicator positioned on the front molding flashes when the interface has operated, providing clear identification of the signal source.
Main Features
Addressable interface unit
Complies with EN54 Part18
Low profile
DIN rail mounted
Loop wired - adjacent to equipment to be switched
Operated from any combination of input addresses
Volt free, change over contacts
Category : Reläer, Brand, Brand reläer & strömförsörjning, Produkter
Specifications
Allmän information
Produktnamn
A50E-2 A-Series Addressable Mini Relay Unit
Batteriinformation
Maximum Storage Temperature (°F)
Minimum Storage Temperature (°F)
Fysiska egenskaper
Användningsområde
Air Conditioner, Detector, Door Lock, Fire Alarm System
Formfaktor
Boxed, DIN Rail, Wall Mount
Miljöförhållanden
Maximum Operating Temperature (°F)
Maximum Storage Temperature
Minimum Operating Temperature (°F)
Minimum Storage Temperature
Strömbeskrivning
Övrigt
Kompatibilitet
Ziton Carrier ZP7 Series Systems