Ziton ZP755V-P Surface Mounting Beacon with Clear Lens, Polar White
Brand:
Ziton
ADI #:ZP755V-P
Model #: ZP755V-P
Name: Ziton ZP755V-P Surface Mounting Beacon with Clear Lens, Polar White
Powered directly from the ZP loop
Up to 60 beacons directly on the loop wiring
Fully addressable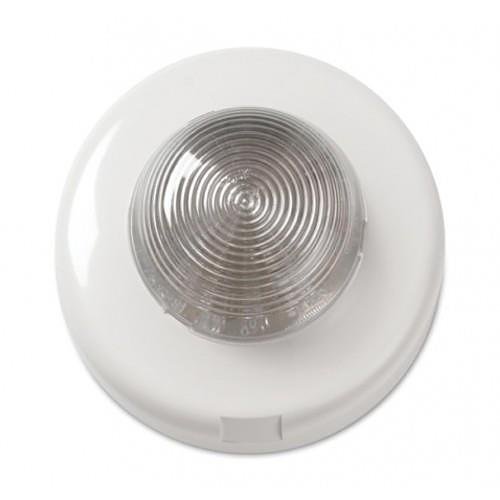 Product Overview
General Information
General
The ZP755V-P is a POLAR WHITE visual alarm indicator moulded in high impact thermoplastic. It features a clear lens and red LED element. All ZP755V units incorporate switch settings enabling them to be assigned a unique address that is polled by the panel every two seconds.
High Intensity Visual Signal
Designed to compliment audible alarms, ZP755V visual indicators provides high intensity, visual signals for applications where alarm sounders alone would prove to be ineffective or inappropriate for evacuating occupied premises. In systems where high levels of background noise prohibit the use of audible alarms, residential establishments with occupants who may be infirmed or hard of hearing or manufacturing areas where intense industrial noise demands the use of ear protection, the visual indication of alarms may be necessary.
The unit is designed to meet the requirements of most local disability legislation.
Low Current Consumption
Clear visual indication is provided by a high intensity Light Emitting Diode (LED) array with a flash frequency of 1.1 seconds. Low current consumption enables up to 60 visual indicators to be connected to a 1 km loop of 1.5mm² cable with a wiring run of 50 metres to the first device. Light output is equivalent to a 1 Joule xenon element.
ZP755V visual indicators, ZP755HAV sounders with visual indicators and ZP755BV detector base sounders with visual indicators may all be used in any combined application provided the maximum loop loading is not exceeded.
External Power Supply Option
Visual indicators are installed using standard ZP7 detector bases. In systems where loop lengths or current requirements are excessive, ZP755V visual indicators may be powered directly from an external power supply by the addition of ZP7-SBB bases (ordered separately).
Main Features
Powered directly from the ZP loop
Up to 60 beacons directly on the loop wiring
Fully addressable
Category : Blixtljus, Brand, Brand klockor/siréner & blixtljus, Produkter
Specifications
Allmän information
Produktnamn
ZP7 Series Addressable Visual Alarm Indicator - Polar White
Teknisk information
Fysiska egenskaper
Kamera
Produktinformation
Strömbeskrivning
TBD
Övrigt
Kompatibilitet
All ZP Addressable Systems
Ziton ZP3 Fire Panels