Xtralis OSID-EHI OSID box för mottagare IP66
Brand:
Xtralis by Honeywell
ADI #:OSID-EHI
Model #: OSID-EHI
Name: Xtralis OSID-EHI OSID Series, Imager Environmental Housing, IP66
Imager with extra viewing opening for Alarm and Fault LEDS
Dedicated entry for OSP-001 FTDI cable
Fast and easy installation- entry and exit opening for wiring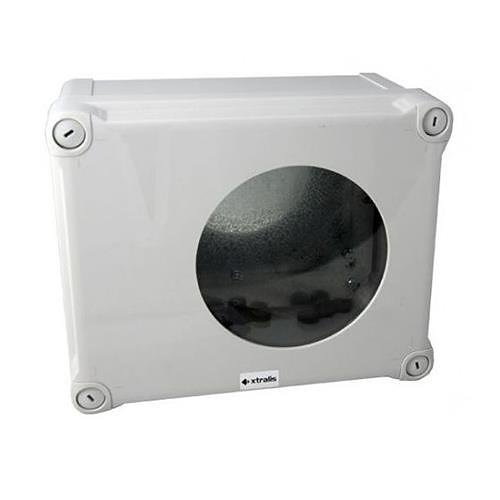 Product Overview
General Information
Custom designed IP 66, NEMA 4-4X protective and environmental housings protect OSID imagers and emitters from dust and water ingress in industrial environments. The housings are only to be used with 1 on 1 systems. The glazed housings are made of ABS. The glass window causes minimal attenuation of the UV and IR beams. Installation and servicing is extremely easy. The imager housing has two glands for easy wiring. The Emitter housing can be used with both battery powered and 24V wired emitter. To access to the Imagers FTDI socket the lid needs to be removed. A separate cable inlet directly below the FTDI socket is normally sealed but can be fitted with an additional gland supplied with the enclosure for servicing or upgrading the imager. Both the imager and emitter housing have 3 pre-drilled screw connections for fixed mounting of the unit. The imager has an additional glass window at the bottom of the housing to allow the Alarm and Fault LEDs to be seen from below. Where condensation is expected, both housings can be equipped inside with a heater of minimum 5W.
Main Features
Imager with extra viewing opening for Alarm and Fault LEDS
Dedicated entry for OSP-001 FTDI cable
Fast and easy installation- entry and exit opening for wiring
Protects against dust and water
Category : Produkter, Branddetekteringsenheter, Brand, Detektordelar & tillbehör
Specifications
Allmän information
Produktnamn
Imager Environmental Housing
Teknisk information
Fysiska egenskaper
Övrigt