Apollo ORB-HT-41017-MAR Orbis Series CR marin värmedetektor med blinkande LED, vit
Brand:
Apollo Fire
ADI #:ORB-HT-41017-MAR
Model #: ORB-HT-41017-MAR
Name: Apollo ORB-HT-41017-MAR Orbis Series CR Marine Heat Detector with Flashing LED, White
Can be used for applications where smoke detectors are unsuitable
Ideal for environments that are dirty or smoky under normal conditions
Flashing LED option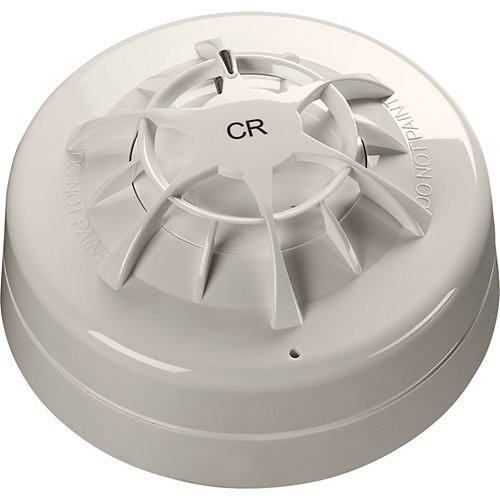 Product Overview
General Information
Brand Information
Orbis Marine conventional fire detectors offer a wealth of features to save time, enhance reliability and reduce false alarms within the marine environment. These include drift compensation and DirtAlert®, a feature that warns Service Engineers via a flashing yellow LED that detectors need maintenance; and patented FasTest®, a procedure that takes just four seconds to test smoke detectors and confirm that they are functioning correctly.
Brand Features
Approved for use in marine environments
Modern, low-profile design
TimeSaver® Base for fast installation
Transient rejection for false alarm reduction
High humidity tolerance at up to 98% RH
Wide operating temperature -40°C to +70°C

Operation
Orbis heat detectors have an open-web casing which allows air to flow freely across a thermistor which measures the air temperature every 2 seconds. A microprocessor stores the temperatures and compares them with pre-set values to determine whether a fixed upper limit - the alarm level - has been reached.
In the case of rate-of-rise detectors the microprocessor uses algorithms to determine how fast the temperature is increasing.
Static heat detectors respond only when a fixed temperature has been reached. Rate-of-rise detectors also have a fixed upper limit but they also measure the rate of increase in temperature. A fire might thus be detected at an earlier stage than with a static detector so that a rate-of-rise detector is to be preferred to a static heat detector unless sharp increases of heat are part of the normal environment in the area protected by the heat detector.
Application
Heat detectors have a wide range of response characteristics and the choice of the right type for a particular application may not always seem straightforward. It is helpful to understand the way that heat detectors are classified as explained earlier and to memorize a simple rule: use the most sensitive heat detector available consistent with avoiding false alarms.
In the case of heat detectors it may be necessary to take an heuristic approach, ie, trial and error, until the best solution for a particular site has been found. The flowchart (refer to datasheet PP2479) will assist in choosing the right class of heat detector.
If the fire detection system is being designed to comply with BS 5839-1: 2002 heat detectors should be installed at heights of less than 12 meters with the exception of class A1 detectors, which can be installed at heights up to 13.5 meters.
Options
The Orbis range incorporates seven heat detector classes to suit a wide variety of operating conditions in which smoke detectors are unsuitable.
The European standard EN54-5:2001 classifies heat detectors according to the highest ambient temperature in which they can safely be used without risk of false alarm. The classes are identified by the letters A to G. (Class A is subdivided into A1 and A2.) In addition to the basic classification, detectors may be identified by a suffix to show that they are rate-of-rise (suffix R) or fixed temperature (suffix S) types.
All heat detectors in the Orbis range are tested as static or rate-of-rise detectors and are classified as A1R, A1S, A2S, BR, BS, CR and CS.
Main Features
Can be used for applications where smoke detectors are unsuitable
Ideal for environments that are dirty or smoky under normal conditions
Flashing LED option
Category : Branddetekteringsenheter, Produkter, Värmedetektorer, Brand
Specifications
Allmän information
Produktnamn
Orbis Marine CR Heat Detector with Flashing LED
Teknisk information
Maximum Relative Humidity
Minimum Relative Humidity
Fysiska egenskaper
Garanti
Strömbeskrivning
Övrigt