GJD GJD397 D-TECT X Repeater
Brand:
GJD
ADI #:GJD397
Model #: GJD397
Name: GJD GJD397 D-TECT X Repeater
The weatherproof IP55 receiver enclosure can be mounted externally or internally up to 500 metres in line of sight to the detectors
Code recognition programming of each detector is both rapid and simple via a plug-in connector between detector and receiver
As a system check, every one of up to 16 detectors automatically sends out a signal every 2 or 15 minutes to confirm that they are active. If a return signal is not received from a registered and recognised detector, a 'RF Loss' LED switches on and the contact is activated at the receiver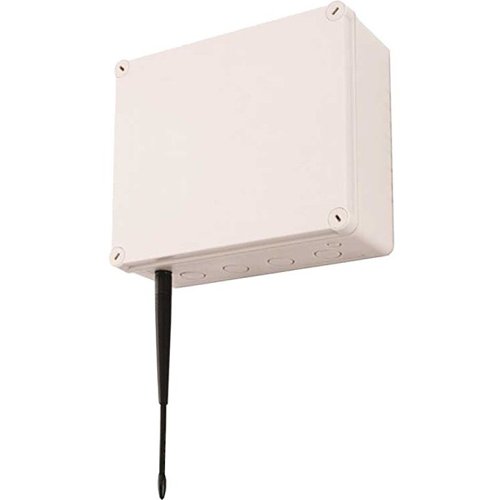 Product Overview
General Information
500m Wirless Repeater
The D-TECT X Repeater can be used to extend the RF range of a D-TECT X detector, or to boost signal in a poor reception area.
The D-TECT X Repeater must be placed within 500 metres line of sight between the D-TECT X detector(s) and D-TECT X Receiver(s). The unit will repeat all signals from D-TECT X detectors within range and as such does not require any programming to function.
Main Features
The weatherproof IP55 receiver enclosure can be mounted externally or internally up to 500 metres in line of sight to the detectors
Code recognition programming of each detector is both rapid and simple via a plug-in connector between detector and receiver
As a system check, every one of up to 16 detectors automatically sends out a signal every 2 or 15 minutes to confirm that they are active. If a return signal is not received from a registered and recognised detector, a 'RF Loss' LED switches on and the contact is activated at the receiver
An RF continuity test mode facility tests the strength of the RF signal from each detector at the receiver location. When it is necessary to conduct a site survey prior to installation, the receiver can be powered temporarily with a PP3 9 V battery
The D-TECT X receiver is powered by a 12 - 24V AC/DC supply
The D-TECT X receiver is supplied as standard with a 4 channel module pre-installed. There are also expansion slots which will accommodate up to 3 additional 4 channel modules giving a total of 16 channels. Therefore the receiver is able to control and monitor up to 16 D-TECT X detectors
An expansion module is connected via the ribbon connector to the circuit board of the pre-installed 4 channel module and is simply slid into the next available mounting slot in the receiver enclosure
An expansion module is connected via the ribbon connector to the circuit board of the pre-installed 4 channel module and is simply slid into the next available mounting slot in the receiver enclosure
Category : Produkter, Inbrott, Repeatrar trådlös, Centralapparater och manöverpaneler
Specifications
Allmän information
Produktnamn
D-TECT X Security Device Signal Repeater
Produkttyp
Security Device Signal Repeater
Fysiska egenskaper