GJD GJD090 4-Channel Multispeech Module
Brand:
GJD
ADI #:GJD090
Model #: GJD090
Name: GJD GJD090 4-Channel Multispeech Module
8 ohm audio output
EEPROM non-volatile memory
Pulse count selectable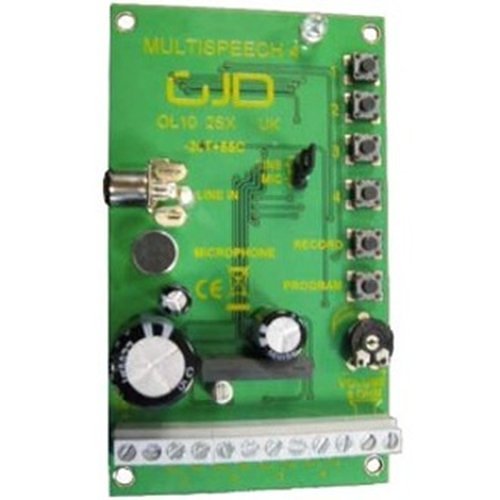 Product Overview
General Information
The Multispeech 4 is a four-channel speech enunciator module designed for intruder monitoring, access control, welcoming, advising or warning. A different 30 second message can be recorded on each of the four channels or alternatively one single message of 120 seconds long can be recorded.
Configurable to accept any normally open or normally closed input, the Multispeech 4 provides an 8 ohm audio output that can be applied to a loudspeaker or to a dialler that has a speech processor input. Recording can be made using the on board microphone or alternatively by a 1V p-p line input.
Main Features
8 ohm audio output
EEPROM non-volatile memory
Pulse count selectable
Linking message outputs
2 speaker output
Category : Inbrott, Produkter, Kontrollmoduler, Centralapparater och manöverpaneler
Specifications
Allmän information
Produktnamn
Multispeech 4 - GJD090 Speech Enunciator
Teknisk information
Strömbeskrivning
Övrigt
Certifiering och standarder