Paxton 900-600BL PaxLock Pro, Euro Internal Lock, EN179 Certified, Black
Brand:
Paxton Access
ADI #:900-600BL-EX
Model #: 900-600BL-EX
Name: Paxton 900-600BL PaxLock Pro, Euro Internal Lock, EN179 Certified, Black
Compatible with Net2 & Paxton10, or standalone
IK10 impact rated
EN179 Certified for emergency exits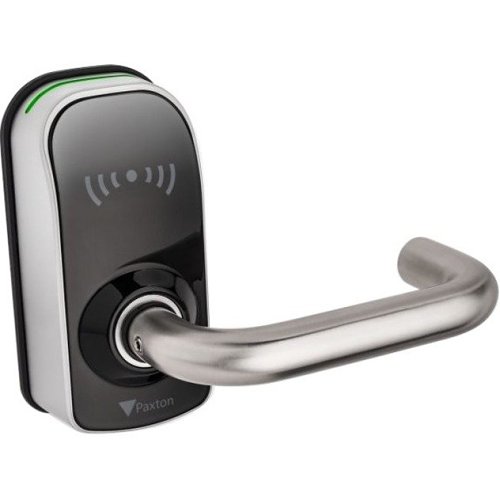 Product Overview
General Information
About – PaxLock Pro is the latest addition to Paxton's range of wireless access control solutions. The design is compatible with any DIN standard lock for a quick and simple installation. Its smart, compact appearance and standalone or networked operation means it can be used in more applications than ever before. Standalone – for use on sites not requiring the additional functionality of an online system. With a flexible upgrade path from standalone to networked, allowing your system to grow to suit your needs. Networked – To provide the advantages of a wireless, networked access control system, PaxLock Pro works with: Net2: communicating with the Net2 server PC using the low power and secure wireless technology of Net2Air. Paxton10: communicating with the Paxton10 server using Bluetooth® frequency-hopping technology. PaxLock Pro supports multi-token technology, including Paxton, MIFARE® and HID®Prox. Please note: HID® requires the purchase of an activation license. Please note: Locking hardware sold separately. To comply with EN179 standards, the EN179 door kit is required. Please note: Wiegand output mode isn't supported on our PaxLock product range.
Main Features
Compatible with Net2 & Paxton10, or standalone
IK10 impact rated
EN179 Certified for emergency exits
FD30 & FD60 certified for fire doors
Compatible with DIN standard locks
Built-in Bluetooth®, allowing the use of smart devices (Paxton10 only)
Category : Produkter, Lås, Elektroniska lås, Passerkontroll
Specifications
Allmän information
Produktnamn
PaxLock Pro Smart Lever Lock
Fysiska egenskaper
Produktinformation