Apollo 55100-031APO Konventionell manuell signalpunkt för intrinsiskt säkra fartyg, EN 54-11-certifierad, röd
Brand:
Apollo Fire
ADI #:55100-031APO
Model #: 55100-031APO
Name: Apollo 55100-031APO Orbis Series Conventional Intrinsically Safe Manual Call Point, EN 54-11 Certified, Red
Suitable for intrinsically safe applications
Suitable for use on Zones 2, 1 & 0
EN 54-11 Certified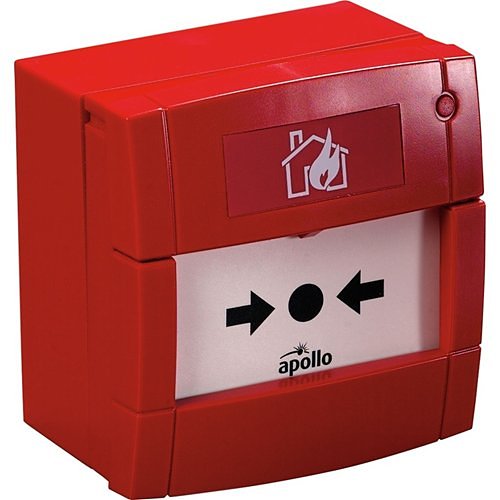 Product Overview
General Information
Brand Features
'Plug and Play' terminal connections for fast wiring Resettable element
Operation
The Manual Call Point consists of a 470 resistor in series with a normally open switch contact. The Manual Call Point helps reduce installation time as all the initial installation cabling is wired to a terminal block which connects neatly to the call point. Once activated, the manual call point can be reset by inserting the test key into the bottom of the unit until the key clicks into position. Remove the test key and push the front cover up until it clicks home.
Mechanical Construction
The component parts of the call point are moulded in polycarbonate or ABS, depending on their function.
Product Information
The Conventional IS Manual Call Point has been designed to operate on conventional intrinsically safe fire detection systems. Designed specifically for use in atmospheres in which explosive mixtures are or may be present, certain design considerations must be observed. Full information on this to be found in PP1095. The Manual Call Point is available in two versions, indoor and outdoor in either red or yellow.
Main Features
Suitable for intrinsically safe applications
Suitable for use on Zones 2, 1 & 0
EN 54-11 Certified
Category : Produkter, Brand, Larmknappar
Specifications
Allmän information
Produktnamn
Conventional I.S. Manual Call Point (Red)
Fysiska egenskaper
Garanti
Miljöförhållanden
Maximum Operating Temperature (°F)
Minimum Operating Temperature (°F)
Produktinformation
Strömbeskrivning
Övrigt
Certifiering och standarder
IP24D
EN 54-11:2001
CCS
CE
Ex
LPCB
UKAS 007
ATEX Directive 94/9/EC