LST CWS/SOUR Wall Mount Multitone Sounder, 32-Tones, 100dB, IP65, Red
Brand:
Labor Strauss
ADI #:355208
Model #: 355208
Name: LST CWS/SOUR Wall Mount Multitone Sounder, 32-Tones, 100dB, IP65, Red
Can be upgraded to a loop signalling device with Labor Strauss/700 protocol by installing control module 2 different tone types selectable,
alternative tone for multi-stage alarming
Adjustable sound level up to 100dB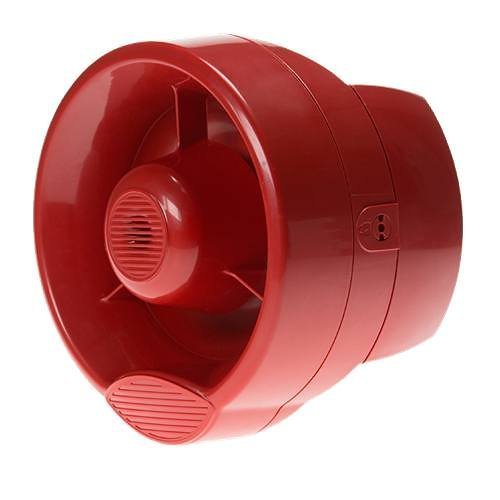 Product Overview
General Information
The wall sounder has 32 different tones, of which the following four tones have been tested according to EN 54-3: Alternating tone 800Hz/1000Hz, Continuous tone 970Hz, Slow Whoop tone NEN 2575, DIN 33404 tone.
The tone is selected via DIL switches. If the sounder is actuated via 2 control panel outputs, it can also be ope- rated with an alternative tone. In this way, multi-stage alarming with 2 different tones can be implemented. The sound level is adjusted in 4 steps, by means of DIL switches.
If multiple signalling devices are used, the tones of all sounders on a line are synchronised in order to gene- rate a uniform warning tone.
The sounder is available with a red or white plastic housing, and thanks to its robust, dust and water protected design with protection class IP65, it is suitable for use under harsh environmental conditions.
By installing the optional loop control module FI750/M/ SST, the sounder can be actuated and powered via the ADM loop with Labor Strauss/700 protocol. The module is to be installed in the bottom part of the sounder housing and is to be connected to the sounder through plug contacts. Depending on the parameter setup and the system conditions, the loop sounder that is created in this way can be activated by the fire detection control panel with two tones, according to the set tone type combination.
A dual-isolator that is integrated into the module dis- connects the loop in case of a short circuit. In this way, the undisturbed communication with the loop elements outside the faulty loop section is ensured.
The address of the module is set by means of the hand- held Programming Unit FI750/PU within the range 1 to 240. Alternatively, the module can be addressed auto- matically if it is connected to a compatible fi re detection control panel.
Main Features
Can be upgraded to a loop signalling device with Labor Strauss/700 protocol by installing control module 2 different tone types selectable,
alternative tone for multi-stage alarming
Adjustable sound level up to 100dB
Low power consumption
Protection class IP65
Category : Produkter, Brand, Brand klockor/siréner & blixtljus, Sirénsockel med blixtljus
Specifications
Allmän information
Tillverkare
Labor Strauss Sicherungsanlagenbau GmbH
Teknisk information
Fysiska egenskaper
Användningsområde
Control Panel, Fire Detection System, Signaling System, Smoke Detector
Miljöförhållanden
Strömbeskrivning
TBD
Övrigt
Kompatibilitet
LST FI750 Series Detector